The Best of Vegas Getting Harder to Choose
LAS VEGAS, NV - Once upon a time in Sin City, it was easy to point out the valley's best golf courses. Sprinkled among Clark County's midlevel muni's were a few upscale offerings, most of them pricey and private, the rest of them resort style and exclusive.
Fast-forward to today and Las Vegas has become one of the country's premier golfing destinations. A list of courses built over the past ten years in and around this desolate landscape reads like a "Who's Who" of big name golf course designers.
If you are on a shoestring budget, there are still a few courses where you can knock it around for under $100 at the right time of year (like during the summer, when you can barely separate your hand from the club grip because of the 100 degree temperatures.)
But don't expect to play the big boys unless you are ready to shell out the big bucks.
"The Vegas market right now is about $150 in the fall season," says Brian Jensen, head professional at Reflection Bay Golf Club. "You are really not going to find anything less that is a course you'd want to come all the way out here and play."
Reflection Bay, Jack Nicklaus' first stab at Vegas style golf, opened in 1998 in the middle of what some Las Vegas golf officials call the city's golf gold rush. From 1995 to 2001, a slew of upscale resort and daily fee courses opened in and around Las Vegas, including the TPC Canyons, Rio Seco, Las Vegas Paiute, Primm Valley and the Revere at Anthem.
"I think we are getting there," Jensen says when asked if Las Vegas can go toe-to-toe with Scottsdale and Palm Desert as a western golf destination. "We are starting to see more competition between the courses like in Scottsdale. Every year there are four or five new courses coming on line that are top of the line."
And the high price for a round of golf is all relative, according to Jensen.
"Golf in Las Vegas is a cheap alternative to spending a few hours down there on the tables," Jensen says. "I think we have peaked, green fee wise but the courses will continue to be built. That plays into the hands of the consumer."
Vegas Golf Gold Rush Course Capsules
Reflection Bay Golf Club: Reflection Bay is the first of three resort courses planned for Lake Las Vegas Resort and the second Jack Nicklaus-designed track for this up and coming destination. The course is considered by many to be the Mac Daddy, so to speak, of upscale Vegas golf.
Five holes play along the 1.5 miles of lake shoreline, and five additional holes are highlighted by major water features. Reflection Bay can challenges low handicappers with a variety of carries over canyons and spectacular double-loaded fairways. It also is affiliated with the 496-room Hyatt Regency Lake Las Vegas Resort, adjacent to the course, making for one posh stay and play opportunity.
The course is also home to the PGA Tour's three tour challenge.
Las Vegas Paiute Resort Legendary golf course architect Pete Dye was one of the first course designers to put his stamp on the Vegas golf gold rush with his Snow Mountain Course at Las Vegas Paiute Resort.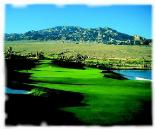 Las Vegas Paiute Resort, is located 20 miles north of downtown Las Vegas. Wide, rye grass, nonparallel fairways feature Pete Dye's trademark railroad tie and pot bunkers and are accented with water hazards and natural terrain. Golf Digest ranks Snow Mountain as the No. 1 public access course in Las Vegas and rates the course as 4 1/2 stars. The course, is hands down, one of the best in the west.
Sun Mountain is the sister course to Snow Mountain, Pete Dye's only other design in Nevada. The rye grass fairways and bent grass greens are framed by yucca and Joshua trees surrounded by hundreds of desert wildflowers. Golf Digest also rates the course as 4 1/2 stars, and another Dye layout is expected to open by the end of the year.
Revere at Anthem Golf Club The Revere was designed by PGA player Billy Casper and architect Greg Nash. Revere Golf Club at Anthem is located at Del Webb's Sun City Anthem Community, 15 minutes from the Las Vegas Strip.
The course is routed through a desert canyon, and at 7,143-yards from the tips, the par-72 course features hordes of natural elevation changes and stunning views of the Las Vegas skyline. The Revere is currently constructing its second course, the Concord, scheduled to open in early 2002. The permanent clubhouse is scheduled to open this year.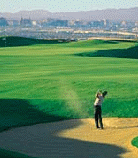 Rio Secco Golf Club Rio Secco Golf Club is home to none other than the Butch Harmon School of golf. Name sound familiar? It should, as Harmon is Tiger Woods' primary swing guru. When Harmon is not flying off to some PGA Tour event to tinker with Tiger's swing, you can usually find him somewhere on site at Rio Secco.
The layout is an 18-hole championship golf course designed primarily for guests of the Rio All-Suite Casino Resort and is just a pitching wedge away from the award-winning property. The course makes its way across 240 acres of some of the most breathtaking scenery in the west, and is seated over 800 feet above the Las Vegas valley. The course was designed by Rees Jones, best known for some of his redesigns of U.S. Open caliber golf courses.
Panoramic views of the Las Vegas Valley and the desert-mountain landscape provide a golf experience for the senses and a formidable test of skill at all levels. Players are challenged on multiple elevations on arroyos, plateaus and steep canyons through ever-changing terrain.
Primm Valley Resort Far be it from Tom Fazio not to get involved the Vegas golf gold rush. Fazio used the early 1990's to establish himself as the most sought after golf course architect in the business, and the nephew of former Tour player and course designer George Fazio keeps churning out one memorable layout after another.
The Desert Course at Primm Valley Resort is the second of two Fazio-designed layouts to be built at the facility. Native desert areas combine with emerald-green fairways to create one of Vegas' top golf courses. In addition to the Lakes Course, the Desert Course was recently named to Golf Magazine's Top 100 Courses You Can Play. Fazio took special care in the design to highlight the natural surrounding areas and vistas of the desert with the sun and shadows providing striking contrasts throughout the round.
The Lakes Course at Primm Valley Resort was the first of the two Fazio-designed layouts to be built at the facility. The Lakes Course is a traditional-style golf course highlighted by waterfalls and bowl-shaped, player friendly fairways that often funnel errant shots back into the fairway.
January 1, 2002